Infos. pratiques
ISBN : 978-0-905705-95-8
Auteur : Dr. John Allwork
Volume : 305 pages
Format : 170 x 235 mm
Epaisseur : ---
Poids : --- kg
Date de parution : 2010
Prix : 36,50 €
Langue : anglais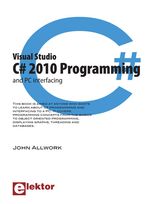 Contenu
Table des matières
- version PDF : 978-0-905705-95-8_Csharp_2010.pdf
- version HTML : à venir
Couverture
- JPG : 978-0-905705-95-8_Csharp 2010 Programming and PC interfacing_couve.jpg
- PDF : 978-0-905705-95-8_Csharp 2010 Programming and PC interfacing_couve.pdf

Site de l'auteur : ---





Présentation en français
Ce livre ouvre pour vous la voie de la programmation en C#, un langage de haut niveau très prisé. Le cours démarre sur les types de données et l'élaboration de l'organigramme de programmation, pour passer ensuite à des notions avancées comme la programmation orientée objet, la segmentation de processus, la communication sur l'internet ainsi que les bases de données. Tous les exemples de code sont disponibles gratuitement sur une site d'assistance associé au livre ; vous pourrez facilement utiliser pour vos propres applications les concepts expliqués ici, et parfaire ainsi votre apprentissage en le consolidant par l'expérimentation.

Des outils logiciels de qualité professionnelle peuvent être téléchargés gratuitement du site de Microsoft. L'environnement Microsoft Visual Studio 2010 avec ses nombreuses commandes utilisateur, leurs propriétés, les méthodes et les événements, est couvert exhaustivement par ce livre. Les lecteurs qui souhaitent commander du matériel à partir d'un PC trouveront des instructions détaillées dans les chapitres consacrés à l'interfaçage des PC, avec notamment des explications sur les ports série et parallèle d'origine, sur l'interfaçage analogique autour de la carte son et sur l'utilisation des pilotes Microsoft DirectX. L'interfaçage au port USB, désormais omniprésent, est expliqué en détail au moyen d'une application-type de périphérique, sous la forme d'un petit montage et du logiciel associé, à base de PIC.

Ce livre déborde d'exemples de programmes, d'exercices d'autoévaluation et de liens vers des vidéos d'assistance. Pour la plupart des chapitres, une assistance est également mise à la disposition des enseignants ou des conférenciers, sous la forme de présentations PowerPoint d'accompagnement prêtes à l'emploi.

Ce livre est conçu pour l'apprentissage de la programmation en C# avec Microsoft Visual Studio 2010 et le système d'exploitation Microsoft Windows 7 les plus récents.

Ce nouveau livre de John Allwork est à la fois une version mise à jour et une extension passionnante de son livre C# 2008 and .NET Programming for Electronic Engineers publié précédemment. Il contient 65 pages de plus et trois nouveaux chapitres relatifs à l'utilisation des pilotes DirectX, au port USB ainsi qu'un exemple détaillé sur l'interfaçage avec des processeurs externes incorporés.




Présentation en anglais
This book aims to teach you quickly how to program a PC, using the popular C# high level programming language. The tuition begins with data types and program flow and extends to more advanced concepts such as object oriented programming, threading, internet communications and databases. All code examples used are available –free of charge– from the special support website; you can easily create your own results to demonstrate the concepts explained and reinforce your learning in the process.

Professional quality software tools are downloadable –also free of charge– from Microsoft. The Microsoft Visual Studio 2010 environment is extensively covered with user controls and their properties, methods and events. Detailed guidance is provided for those wishing to control hardware from a PC with PC interfacing chapters which explain the legacy serial and parallel ports, analogue interfacing using the sound card and use of Microsoft DirectX drivers. Interfacing to the ubiquitous USB port is explained in-depth with a detailed hardware and software design for a USB connected PIC-based hardware target included.

This book is complete with the many full program examples, self assessment exercises and links to supporting videos. Support is also provided for University lecturers in the form of accompanying downloadable PowerPoint presentations for most chapters.

C# 2010 Programming and PC interfacing supports C# development using the latest Microsoft Visual Studio 2010 and Microsoft Windows 7 operating system.

This latest book by Dr John Allwork is both an updated version and a compelling extension of his previously published C# 2008 and .NET Programming for Electronic Engineers. It includes an additional 65 pages and three new chapters covering the use of DirectX drivers, the USB port and a detailed example of interfacing to external embedded processors.





L'auteur
Assistant en électronique à la Manchester Metropolitan University, Royaume Uni.
John Allwork, né en 1950 dans le Kent, Angleterre, s'est intéressé à l'électronique à l'école.
Pendant plusieurs années, il a travaillé dans le support technique et comme directeur de la distribution en électronique, en relation étroite avec les ingénieurs d'application d'Intel et en suivant la conception des systèmes Inmos Transputer. Depuis 1991, il est assistant à la Manchester Metropolitan University, au département Engineering and Technology.

John Allwork was born in 1950 in Kent, England and became interested in electronics and engineering at school. He went to Sheffield University on their BEng Electrical and Electronic Engineering course. There he developed an interest in computers and continued his education on an MSc course in Digital Electronics and Communication at UMIST. After two years working for ICL as design, commissioning and test Engineer he returned to UMIST where he graduated with a PhD in 'Design and Development of Microprocessor systems'.
He worked for several years in technical support and as manager in electronics distribution, working closely with Intel Application Engineers and followed this with design work on the Inmos Transputer systems. He has been a lecturer at Manchester Metropolitan University in the Engineering and Technology Department since 1991.
His interests apart from electronics include skiing, walking and spending time on his allotment or on his narrowboat.