Infos. pratiques
ISBN : 978-0-905705-70-5
Auteur : Bert van Dam
Volume : 446 pages
Format : 17 x 23,5 cm
Epaisseur : 22 mm
Poids : 0,730 kg
Date de parution : 03/2008
Prix : 38,00 €
Langue : anglais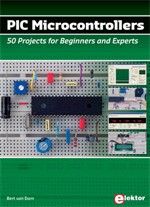 Contenu
Table des matières : TableDesMatieresPIC_b5C.pdf
Couverture : Couverture_PIC_50_projects.pdf
4e de couverture : Dos_PIC_50_projects.pdf

Site de l'auteur : http://members.home.nl/b.vandam/lonely/index.html




50 réalisations du débutant à l'expert parmi lesquelles VARIABLE SPEED FLASHING LED, DARK ACTIVATED SWITCH, INFRARED OBJECT DETECTION, PICTURES OF LIGHT, ELECTRIC CANDLE, RECORDING SOUND, TACHOMETER etc.


Les points forts
Initiation aux microcontrôleurs PIC : écrit à la demande d'Elektor pour ses lecteurs, tourné vers la pratique, avec 50 réalisations dans toutes sortes de domaines, ce livre s'ouvre sur la mise en route du matériel et du logiciel, puis s'articule autour de thèmes variés comme les moteurs, les capteurs, le son ou les mémoires...
Guide de référence idéal pour les débutants et les enseignants, il fait appel à quatre microcontrôleurs : 12F675, 16F628, 16F876A et 16F877.
Initiation au langage de programmation open source JAL (Just Another Language), semblable au Pascal (téléchargement gratuit des outils et des bibliothèques nécessaires pour les µC PIC 12F675, 16F628, 16F628A, 16F648A, 16F876A, 16F877, 16F877A : conversion A/N, PWM, RS232, nombres aléatoires, écran LCD, I2C et tant d'autres !).
Présentation en anglais
This hands-on book covers a series of exciting and fun projects with PIC microcontrollers. For example a silent alarm, a people sensor, a radar, a night buzzer, a VU meter, a RGB fader, a serial network, a poetry box and a sound super-compression. You can build more than 50 projects for your own use. The clear explanations, schematics, and pictures of each project on a breadboard make this a fun activity.

You can also use this book as a study guide. The technical background information in each project explains why the project is set up the way it is, including the use of datasheets. This way you'll learn a lot about the project and the microcontroller being used, and you can expand the project to suit your own needs…making it ideal for use in schools and colleges.

This book can also be used as a reference guide. The explanation of the JAL programming language and all of the expansion libraries used is unique and found nowhere else. Using the index, you can easily locate projects that serve as examples for the main commands. But even after you've built all the projects it will still be a valuable reference guide to keep next to your PC.

Four microcontrollers are discussed, the 12f675, 16f628, 16f876A, and 16f877, as well as how to migrate programs from one microcontroller to another.

All software used in this book can be downloaded for free, including all of the source code, a program editor, and the JAL open source programming language. This powerful and yet easy to learn language is used by hobbyists and professionals worldwide.

A hardware kit is also available for purchase separately that contains all the parts to get you started, including a few microcontrollers. There is even a free support website with additional information, FAQ, and links.


L'auteur
Bert van Dam, titulaire d'une maîtrise en chimie, est né aux Pays-Bas mais a vécu en Australie et aux États-Unis. Aujourd'hui il est à son compte mais auparavant il a travaillé pour McCain (nourriture congelée) et Isover (isolants thermiques).



Table des matières - Contents
A venir


---
Autres titres du même auteur

Livres en français
- Intelligence artificielle : 23 projets ludiques et instructifs à construire soi-même - imitation du comportement animal par des robots à microcontrôleurs PIC
- Microcontrôleurs RISC 32 bits à architecture ARM® - 35 projets d'initiation en C avec la carte mbed NXP LPC 1768
- Programmation des PIC 16 et 18 en langage JAL : 50 nouvelles applications des microcontrôleurs PIC - initiation et maîtrise par l'expérimentation

Livres en anglais
- Microcontroller Systems Engineering - 45 projects for PIC, AVR and ARM
(La puissance universelle de Flowcode alliée à la commodité des E-blocks)
- Artificial Intelligence - 23 projects to bring your microcontroller to life!
(Intelligence artificielle : donnez vie à vos microcontrôleurs)